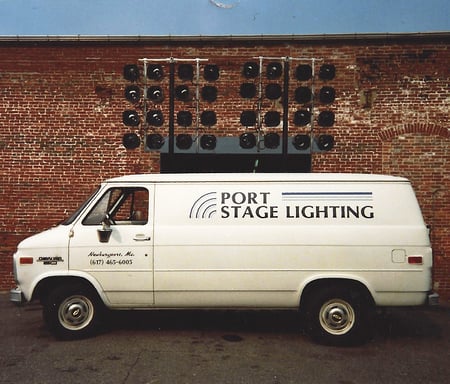 Port Lighting owes its start to a love of music. While playing in bands as a teen, founder Todd Gerrish noticed the stage lighting was always a mess, and took it upon himself to improve it. Tinkering became voracious self-education—he had found his passion—and soon, his ability to strike the ideal mood through design and installation led to a steady stream of band lighting gigs.
While Todd earned his electrician's license, increasing demand quickly ballooned his lighting inventory beyond the limits of his parents' garage—supplemented by a traveling school bus—and in 1985, Port Lighting was born (with a proper warehouse). He hired his first employee—who is still with Port today—and has never looked back.

Today, Port's team comprises over 30 members—across an array of meticulous services—all of whom share Todd's founding career passion. That passion formed the bedrock of Port Lighting, having led not only every hiring decision, but our unwavering commitment to excellence across every job and the development of our mission statement and core values—our guiding light in everything we do.

Welcome to Port Lighting. We light your world.